What to do next
Here you'll find some concrete steps (some simple, some a bit more involved) to take to protect yourself and your information. At the end, there are links to more guides and resources.
What to do
Suggested Tools: Selection & Criteria
We recommend only a small subset of all available tools - the ones we consider "the best" for most users with
average (or maybe slightly lower) technical IT background.
average (or slightly higher) need for privacy and security of information.

Note that life-and-death situations require stronger solutions (and much more paranoia) than we can cover here!
How to evaluate which cryptographic tools to use?
Fact: Cryptography is hard!

Weakest Link property:

Adversary only needs to break the weakest link in the chain
If you're careful 20 times, but careless once, you might already be screwed

Adversary is not playing fair:

Key Loggers
Timing attacks, Side channel attacks, Chosen Plaintext attacks, etc.
Rubber hose, Wrench (see xkcd comic below)

Thus: Desireable Attributes of a tool:

Organizational properties

Open Source
Security Audit
Clear threat model, clear crypto solutions

Crypthographic properties

Established crypto algorithms
End-to-end encryption
Perfect forward secrecy

Price

We give preference to free/open source tools,
But we will list commercial solutions if they provide clear benefits (such as ease of use, better support, etc.)
However, very expensive tools will be penalized.
In summary, our list below includes tools that are not too hard to use, preferably open source, with good enough crypto, preferably cheap or free.
Also see the EFF Surveillance Self-Defense Guide on Choosing Your Tools and Seven Steps To Digital Security.
xkcd on: Security and the Weakest Link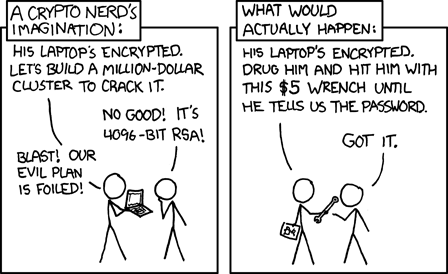 from: "xkcd" by Randall Munroe at xkcd.com
---
What to do: Mac
What to do: Mac - today
Use Messages and Facetime (end-to-end encrypted)
In Safari,

Switch your Search Engine to DuckDuckGo (Safari -> Preferences -> Search)
Install Extensions (Safari -> Safari Extensions):

Adblock Plus (choose all options: block malware, trackers. By default, "acceptable ads" are displayed, can be disabled)
maybe Ghostery (or Disconnect Private Browsing)
maybe CryptoCat (for anonymous chats)

In Firefox, Chrome,

Switch your Search Engine to DuckDuckGo
Install Addons

Adblock Edge
Always HTTPS
Privacy Badger

Download and install
What to do: Mac - If you have a Weekend
What to do: Windows
What to do: Windows - Today
In your browser:

Switch your Search Engine to DuckDuckGo
Install Addons

Always HTTPS, if available
Privacy Badger

Download and install
What to do: Windows - If you have a Weekend
What to do: iOS
What to do: iOS - Today
Switch your search engine to DuckDuckGo (Settings -> Safari -> Search Engine)
Use iMessage and Facetime, both end-to-end encrypted
Download (from the App Store)

Browsing apps: OnionBrowser (anonymous/private browsing)
Chat apps: Signal, Telegram
Voice call apps: Signal
What to do: iOS - If you have a Weekend
Get started with a Password Manager

If you're only on Safari (Mac and iOS), Keychain is great
If you're happy to pay for a commercial solution, look at LastPass or 1Password
If you prefer a free open-source solution, get pwSafe

Get started with GPG:

download & install
iPGMail: not free. GPG for iOS Mail. Closed source. EFF score 4/7. Link
copy your private key from your desktop computer over to your iPhone, see this guide.
send yourself a message from the desktop and decrypt it on the iPhone, and vv
What to do: Android
What to do: Android - Today
??? TBD
What to do: Android - If you have a Weekend
??? TBD
Further Resources
Guides
Commented lists of tools